Making a difference one battery at a time!
The idea of becoming 'World Changers' came from our founder's undergrad years studying at Indiana Wesleyan University. The principle is simple, we can ALL do something to benefit those around us. From simply offering a much needed smile, to volunteering our time, to rallying the troops to support a cause.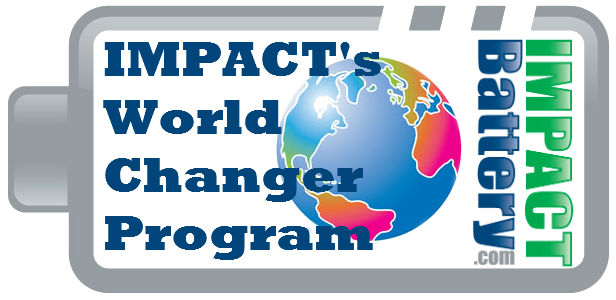 At Impact Battery we believe it is our responsibility to model how a business can play a role in being a World Changer. We do this by supporting wholesome community initiatives and by giving back to charitable organizations. In fact, our business was founded on the idea of giving away the first fruits of our labors. Accordingly, we give a portion of every sale to a designated charity and invite our online customers to participate by selecting the charity they would prefer us to be supporting during checkout. It costs our customers absolutely nothing to participate. Even if no selection is made, we will still send a portion of the sale to a charity of our choosing.
We want to know what you think and value the collective ideas of our customers. We recognize the current selection of charities may not appeal to everyone as there are thousands of registered charities to choose from in the United States. We are always looking for new charities to get involved with and invite our customers to submit ideas by emailing charity@impactbattery.com.
Impact Battery strives to be different. We not only care about selecting quality products for our customers, but thanks to you, we are able to support charitable organizations all over the nation. From all of us at Impact Battery and the charities supported by your choice to take action, we wish to convey our gratitude and say THANK YOU! Together we are able to make a difference one battery and charger at a time!
If you would like to learn more about enrolling your charity or school in the IMPACT Community Program please email and tell us about your organization and your fundraising goals.  Everyone uses batteries, why not shop for them at Impact Battery and have a generous portion of the proceeds support your organization!
Charities Supported by Impact Battery
Below are some of the prominent charitable organizations Impact Battery supports:
An international medical humanitarian organization working in more than 60 countries to assist people whose survival is threatened by violence, neglect, or catastrophe.
Since its founding in 1881 by visionary leader Clara Barton, the American Red Cross has been the nation's premier emergency response organization. As part of a worldwide movement that offers neutral humanitarian care to the victims of war, the American Red Cross distinguishes itself by also aiding victims of devastating natural disasters.
In every community, boys and girls are left to find their own recreation and companionship in the streets. An increasing number of children are at home with no adult care or supervision. Young people need to know that someone cares about them.  Boys & Girls Clubs offer that and more. Club programs and services promote and enhance the development of boys and girls by instilling a sense of competence, usefulness, belonging and influence.  Boys & Girls Clubs are a safe place to learn and grow – all while having fun. They are truly The Positive Place For Kids.
The National Association for Search and Rescue, Inc., (NASAR) is a not-for-profit membership association dedicated to advancing professional, literary, and scientific knowledge in fields related to search and rescue. NASAR is comprised of thousands of paid and non-paid professionals interested in all aspects of search and rescue - the humanitarian cause of saving lives - throughout the United States and around the world. "...that others may live."  (Impact Battery specifically supports members of CORSAR--volunteer units in Southern Oregon and Northern California.)
Today's YMCAs serve thousands of U.S. communities, uniting 21 million children and adults of all ages, races, faiths, backgrounds, abilities and income levels. Our reach and impact can be seen in the millions of lives we touch every year. Across the nation, YMCAs are committed to helping:
Children and youth

 

deepen positive values, their commitment to service and their motivation to learn
Families

 

build stronger bonds, spend time together and become more engaged with their communities
Individuals

 

strengthen their spiritual, mental and physical well-being
Muscular Dystrophy Association (MDA)
MDA is the nonprofit health agency dedicated to curing muscular dystrophy, ALS and related diseases by funding worldwide research. To have your purchase support this organization create an account here and all your future purchases will have a portion of the sale go towards the MDA.